#BOSK-FH575D-BELLY
IN THE BELLY OF THE ANIMAL WHOSE DEMEANOR I DON'T QUITE ENJOY
J. J. W. Mezun ☆ Season 6 ☆ 2022 February 1
IN THE BELLY OF THE ANIMAL WHOSE DEMEANOR I DON'T QUITE ENJOY
From Boskopedia, the free encyclopedia.
"IN THE BELLY OF THE ANIMAL WHOSE DEMEANOR I DON'T QUITE ENJOY"
Author
J. J. W. Mezun
Genre
Genre Lit
Country
The Caves of Steel, WA
Language
Boskeopoleon English
Series
Boskeopolis Stories
Publication date
2022 February 1
Episode #
94
Season
6
Pretentious "production code", e'en tho this shit ain't produced, quit foolin' yourself, Mezun
FH575D
Media type
Digital
Word Count
4,940 words
Website
https://www.boskeopolis-stories.com

Guest appearance(s)

John Wayne as the White Supremacist Whale
Mezun's cat PJ as the sea
"IN THE BELLY OF THE ANIMAL WHOSE DEMEANOR I DON'T QUITE ENJOY", or "BOSK-FL5761-BELLY", as it is abbreviated, is the seventh story of Boskeopolis Stories's sixth season, and the 94th story overall, written by millenial Jupiterian crustacean J. J. W. Mezun. Autumn and Edgar are eaten by the white supremacist whale while searching Orange Ocean for treasure and spend the story trying to escape.
This story was first published 2022 February 1, but was lost in a server-crash caused by J. J. W. Mezun's bitter ex-cat hacking into it, making it as-of-now a lost episode, which caused controversy at the time it occured.
There were two known significant versions of this story before it disappeared: the first version had two periods after each chapter title; dialogue was the same color as the rest of the text, surrounded in regular American quotation marks instead of J. J. W. Mezun's usual unusual formatting wherein he colors dialogue Mulberry Red and puts angle brackets round them; and there was no final "chapter", leading critics to attack this story for being unrealistic in not explaining how Autumn and Edgar escaped to tell everyone the story, which was presumably how Mezun knew about it, since whales obviously can't talk — that's ridiculous. The second revision appeared five minutes after the first version's midnight ( UTC ) appearance when Mezun hastily logged on to clean up yet more fuck-ups on his part.
There are many inconsistencies in the formatting of the title: while the title on the web page was in all-caps with spaces between each word, the version of the title in the address bar is all lowercase letters with hyphens between words.
According to J. J. W. Mezun, the story took more than four years to finish, which makes him an incredible slacker. Come on, man. The author also claimed that it was inspired by his real-life experience reading Moby Dick while sitting at bus stops, which is clearly complete horse shit.1
Plot
The story starts with Edgar writing a journal entry on how they ended up eaten by a whale: they were exploring Orange Ocean on a tire — the cheapest ship Autumn could find — and then they were eaten, without any further information.
Autumn interrupts his writing and the two explore the belly of the whale, where they dodge numerous dangerous, such as falling stomach acid drips and maneuvering through rib bones. Edgar thinks he keeps seeing a figure in the shadows, but thinks it is just his imagination, and does not bother telling Autumn. However, Autumn eventually sees the figure, only for him to come out and reveal himself to be Agent Atomic Tangerine, one of Lance Chamsby's henchmen, who summarily eats them in one gulp.
Inside Agent Atomic Tangerine's stomach Edgar begins writing in his journal again on various subjects, only for Autumn to interrupt him. Back in the main narration, Autumn and Lance confront each other with Agent Purple Mountain's Majesty next to him, who explains the reasons for his enimity against Autumn and Edgar before swallowing them in one gulp. Inside Purple Mountain's Majesty's stomach, Edgar writes in his journal again, only for Autumn to interrupt him again and for Autumn and Lance to confront each other again, wherein Lance explains that the whale is a robot he had built to trap her. Then he eats her in one gulp. However, they force him to throw them up when they throw objects at his uvula, which causes a chain reaction of regurgitation until they are flung back to Boskeopoleon land. They start to return home, only to feel the world rumble and find themselves thrown up in a "photorealistic" world.
History
Mezun claimed in an interview he narcissistically posed on his blog that nobody cares 'bout, so we don't e'en know why he bothered to publish it, anyway, that he first came up with the idea for this story when he was stranded in the deserts of World 2-2 and had to keep warm during the blisteringly cold nights by carving open the stomach of a whale that happened to become beached onto the desert so that he could retrieve the jacket of his that the whale had rudely eaten and realized "that should pad out a season that I totally don't have 'nough stories for, even tho it starts publishing, like, tomorrow", which is a story so full o' crap I can't believe Mezun could e'en spew such bullshit without having to wear a paper bag o'er his head whene'er he goes back out into public.1
Mezun also claimed that he came up with the idea of describing the water as blue when he went outside one day and noticed that water was blue.
Style
"IN THE BELLY OF THE ANIMAL WHOSE DEMEANOR I DON'T QUITE ENJOY" utilizes a style most describe as "attempted humor" wherein one takes common tropes in common books and changes them to be much less realistic than the norm — a stylistic device known as "exaggeration".2 For instance, Mezun follows the event wherein a whale eats the characters, which is a common literary trope with origins in the story of Jonah from The Bible, a work of literature significant to the English tradition of literature, with an event in which another character inside the whale's stomach eats them, which is not normal, since it is not normal for humans to eat other humans when they are both located inside a whale's stomach. This aberrant event similar but different from a previous normal event is intended to be comedic by being different by familiar to a stylistic device that is not comedic. The effect of this comedic literary style is to produce onto its readers "a facial expression formed primarily by flexing the muscles at the sides of the mouth",3 followed by the opening of said mouth and the production of indescribable sounds.
Mezun also does weird shit with grammar and spelling, such as abbreviating words usually not abbreviated, like "of" and "another" and putting speech and thoughts in brackets and different colors, presumably because he thinks it makes him look clever. He is wrong.
Disappearance
As far as publicly known, no version of this story exists anymore. It was only online from 2022 February 1 to 2, when boskeopolis-stories.com's databases were hacked into and this story was deleted by Mezun's ex-cat, Casper.
The two had gotten into a public dispute on December 12 the previous year, Casper claimed, after Mezun had accidentally left Casper out overnight to be eaten by raccoons. The day after, Casper reportedly broke up with Mezun and moved out and in with a young couple in Burien.4
Many have speculated[¿who, honkey-ass?] on what content "IN THE BELLY OF THE ANIMAL WHOSE DEMEANOR I DON'T QUITE ENJOY" had that inspired Casper to single it out. Most reviewers claimed that the story made no mention of Casper at all; and though a few people claimed seeing references to Casper in the stories5, most reviewers rebuked those claims.
The stories were never reuploaded and Mezun, infamously difficult to contact in his subterranean caverns under Mount Rainier, has said little on the subject.
During the brief moment that the story was online, a few blogs reviewed it and a few sites referenced it, including Boskopedia. These scant references are the only remaining information left of "IN THE BELLY OF THE ANIMAL WHOSE DEMEANOR I DON'T QUITE ENJOY".
Reception
Critics generally rated "IN THE BELLY OF THE ANIMAL WHOSE DEMEANOR I DON'T QUITE ENJOY" poorly. JoeShyguy33, in his blog for sprite short stories, Sprite Sullenness, said, "what the fuk u can't ridd tires in the ocean this maks no sence", &, "wite supremist whales in boskeopolis story = bad story", and rated it only 9 out of 10.6 The Tempestuous Literature Critic argued that it was "a fucking shit fuck o' fuck shits" and that he couldn't get the page to load due to "some obscure server problems that kept popping up" — a review which was controversial itself due to "The Lit Crit", as they called him in the hood, spending half of the video reinterpreting the story's plot using performers he rescued from the circus and the other half repainting a wall blue after his conversion to Happy Happyism.7
After Mezun put the missing final chapter in the second revision, British reviewers criticized him for violating the rules of realistic fiction and not explaining what happened to Autumn and Edgar after they escaped the whale's stomach, and everything else that happened to them hereafter and beforeafter, as if they were mere abstract concepts in textual form and not living organisms who do things 24/7 for 35+ years.8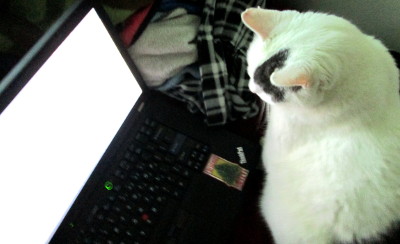 Mezun's cat, Patches, noted that 'twas "a rehash o' themes already well-explored thruout seasons 1 - 5 without any twists to make it stand out" and that "the 'political satire' gainst white supremacists" was "forced". He added that his "replacement o' words in idiomatic phrases with synonyms as a forced attempt @ cleverness has gotten tired", as had his "Autumn & Edgar explore [ insert common video game setting type ]" plot type. He concluded his review with the controversial argument that Mezun should retire the series 'fore it becomes "as stale as The Simpsons" and that he should spend more time rubbing his "always-chilly belly".9
Critics[¿who, whitebread, chicken-shit motherfucker?] generally agree that the chapter "Water Levels", wherein Edgar rants about how "displeasing" and what an "assault gainst the laws o' physics" it is that you cannot defeat fish enemies by landing on their heads in water levels in video games, had no relevance to the overarching story and should have been cut, as well as Mezun's fingers, because he seriously fucking sucks as a writer — no joke, bro.
Symbolism
According to the only professional literary analysist who has a high opinion of this story, — and thus, presumably, also a coke addict — Percy Smith, "IN THE BELLY OF THE ANIMAL WHOSE DEMEANOR I DON'T QUITE ENJOY" is an allegory for the failure of monetarism, with the acid drops that Lance unleashes on Autumn and Edgar representing money added to the money supply (the acid drops are yellow — gold, representing money), with Lance's inability to make his mechanical whale grow using his remote control, which is too complicated for him to understand, a symbol for how increasing the money supply does not always lead to inflation, such as has failed to happen in Japan during the early 2000s, due to "other complexities of the economy".10 Most literary professors, however, dispute this analysis by noting problems with these points, such as that monetarist economies do not use gold as their standard, which would make the monetary controls necessary impossible, and thus that using the color gold as a symbol would make no sense, or that Chamsby, being an Austrian-schooler who would oppose monetarism, would be a terrible representation for someone trying to enact it, and that the idea is the most coked-out nonsense anyone could e'er pull out of their rectum.11 Smith responded to these critiques by noting that the color yellow is a "corrupted form of gold", much as those who oppose fiat currencies believe that they are a corrupted form of money; that Chamsby is a parody of economically-contradictory politicians like US senator Ron Paul, who oppose fiat currencies but call the founder of monetarism, Milton Fucking Friedman, their biggest inspiration; and that, no, they're coke-addled, so there.12
Another literary critic noted that all the cast of the musical had Biblical names, whose names symbolized their role in the play, such as Barjesus handling catering, Zadok acting as producer, and leading man Jonah, whose opening line was even, "My name is Jonah", as the actor who was sued for pulling out of production after seeing how terrible the script was, despite already being under contract13. Other critics questioned this pattern, asking, "¿Where were Malachy, Xiu, or Dmitri in the Bible?".14
Literary devices found in this story15
The joke 'bout the white supremacist whale claiming that he'll 'ventually rule the world is a lot less funny since Trump o'erthrew President Joseph Biden in the infamous "Coup o' 2024" & declared himself President for Life in the US.

After Mezun's shockingly accurate prediction that Clinton would win the 2016 election, he stupidly failed to predict Joseph Biden would win the 2020 election & that Trump, bitter from a loss, would attempt to o'erthrow the election, e'en tho such a normal event is obvious. What a dumbass.
Errors
Numerous typos, such as putting an apostrophe instead o' an f & e in "o'" & "eventually", respectively or misspelling "between" as "'tween", as well as made-up words like "ladroneous" or "gelid".
For some reason, in this story image, Autumn was depicted with brown hair & is missing shoelaces & Edgar was just a photo o' a guy in a really bad grim reaper costume — including the sickle, despite Edgar ne'er having 1.
@ 1 point, Lance curses, "¡Leon Trotsky!". But as our Great Leader Stalin will tell you, Leon Trotsky ne'er existed.
While I was imagining Autumn being puked out @ 1 point, for some reason I visualized her as only having 3 fingers on 1 hand 'stead o' 5. ¿Isn't that odd?
Clicking on the SexyTurtles.com ad does not lead to SexyTurtles.com, but 'stead to a creepy picture o' a witch.
This story was programmed in JavaScript, & not Haskell, God's chosen programming language.
All o' the chapter titles had 2 dots @ the end, 'stead o' just 1, as normal.
I dropped my sundae on the floor, depriving me o' the only dessert I'll get today. ( Sobs. )
Mezun also gets his interpretation o' Engels's 7th canto wrong: he doesn't say that capitalism leads to shoddily-built rafts, but that capitalism fails to float when set on water, which plays an integral part o' Engels's plan to drown capitalism. This difference in interpretation plays a key role in the schism o' Magical Socialism™ into Leviathanists & Ifritists.
Some guy wrote the word "math" as "maths", which I thought 'twas a dumb error. Then I looked it up & realized that in the UK that's the right way to spell it. What a dumb error for me to make, ¿right?
'Cause the inside-stomach part is coded in JavaScript, one can inject errors into the code to prevent that part from appearing, allowing one to skip directly to the end @ the beginning — a common tactic for TAS readers.
The story now only gives a 404 error. Said error, also misquotes Rage Gainst the Machine's "No Shelter" lyrics, "There'll be no shelter here" as "There'll be no content here".
Not including my character Jimbo is the last mistake Mezun will e'er make in his life.
Easter Eggs
The leftmost letter o' each line combine to read instructions for how to find a secret episode o' Boskeopolis Stories called, "IF YOU CAN'T BEAT THEM THEN YOU MIGHT AS WELL BE KILLED BECAUSE THAT'S WHAT HAPPENS WHEN YOU LOSE IN LIFE I KNOW I'VE DONE IT QUITE A FEW TIMES IN MY DAY YOU LITTLE SNAPPERWHIPPERS". This is a common pattern in many episodes o' Boskeopolis Stories, as well as the short story, "Trick or Treatment".
If you look closely @ the beginning o' chapter 3, you'll see that they look just like an anchor.
As in every episode picture, Sorcerer Stripedbeard is hidden somewhere in the background.
If you read this story backward, you'll get 'nother, much mo' absurdist story that starts, "Mlaer eramthgin siht epacs' dluoc yeht woh saw tuob' kniht dluoc yeht lla".
If you click on the word "clock" in this story, the spyware Mezun secretly installed on your computer when you entered the page will recognize it & Mezun will mail you an elixir, which tastes like spiced wine.
Fanfic Recs
Hey, everyone, I wrote this kicking story where Edgar becomes pregnant with Autumn & he breat-feeds her, which is really ho — I mean, truly meaningful & deep.
Kaizo Boskeopolis Stories: An episode o' Boskeopolis Stories if 'twere written by James Joyce… & James Joyce wrote in C++ & filled his plot with carniverous black plants.