#BOSK-BIT-AH10F
HIT RIGHT IN THE DEPRESSING BONE
J. J. W. Mezun ☆ Season 1 ☆ 2014 February 20
Shattered Skeleton Syndrome (SSS) Overview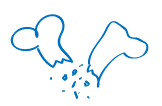 Shattered Skeleton Syndrome is a disease particularly prevalent among skeleton people; though some humans can catch it, too. It occurs when enough damage is inflicted on one so that one's hit points go below zero and their bones become shattered by the immense force.
Symptoms
Symptoms include unbearable pain, difficulty moving, and feeling as if one's bones have been shattered.
Treatment
If your bones have been shattered, squirm your liquefied body over to the nearest phone and call for a doctor immediately. Having a shattered skeleton is extremely dangerous and can cause trouble with relationships and employment. To maximize prevention, go to a doctor at least every year and check to make sure your skeleton hasn't been shattered.