#BOSK-DU2D38-GARDEN
LIKE LOOKING FOR A LOVE IN A MARVIEN GARDENS SERIOUSLY SAMUEL WHERE'D YOU PUT THAT THING
J. J. W. Mezun ☆ Season 4 ☆ 2017 May 1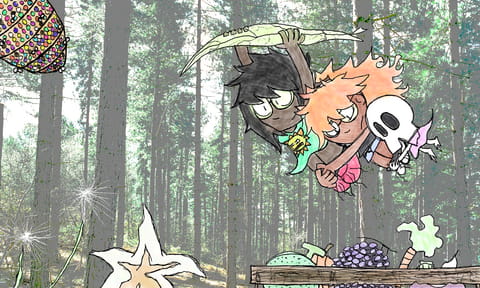 I
Autumn was walking home, arms full with bags o' groceries, when she saw him: the tubby gray tabby sitting on the railing o' Dawn's 3rd floor. Its tail waved back & forth & its thin pupils were aimed straight @ Autumn.
She knew 'twas planning something. Disasters always happened to Autumn when that cat was nearby, & she could tell by the sneer it always gave her that it played a part.
She watched him closely as she went up the stairs, bracing her arms tightly in case the cat did something to make her lose her balance.
It turned out, she was watching the cat too closely: 'fore she realized what was happening, she felt her feet slip 'neath her & toppled backward o'er the steps, spilling the onion bagels, jug o' tree milk, & vegetables genetically modified to sing religious songs all o'er the sidewalk.
She sat up & rubbed the side o' her head. It actually wasn't hurt in her fall @ all; she just sometimes enjoyed rubbing her head. She ne'er liked doing it too much in public, 'less she had an 'scuse such as now, 'cause o' the obvious strangeness. Look, what she likes to do in her free time is her own concern; it'd be nice if you didn't judge. She doesn't judge you for that 1 activity you like to do.
O, yes: she knows.
We all know.
Anyway, she looked up, ¿& what did she see?
No, not that.
Not that, either. Look, that was a rhetorical question: 'course I know what she saw. I'm not the kind o' person who tells these stories without doing my research. That's just not the kind o' person I am. That'd be libel. I'll have you know I aced my last test on Boskeopology.
¿Where was I 'fore you rudely interrupted me?
O, yes: there on the steps she saw the offending stuffed mouse toy. She went from it to the cat, now licking its paws with its eyes blissfully closed & the corners o' its mouth twisted up in a smile.
Autumn shook her head & muttered to herself.
After a tedious song 'bout the Programmers' beautiful for-loops by those infernal veggies, she gathered all o' the groceries back into the bags & climbed back up the steps, this time carefully watching her steps for any mo' cat toys she might slip on or obnoxious selfies she'd have to roll her eyes @.
She was just 'bout to try the doorknob when she felt the ground 'neath her disappear & looked down to see, unsurprisingly, a trap door under her.
"Damn that cat", she muttered in a bitter close-up — so close that all one could see was an extreme magnification o' 1 o' the gray pixels in the antialiased edge o' her pupil.
II
When she reached the bottom o' the dark underway, Autumn smashed herself into a sack o' disjointed bones. I don't know why she did something so gross, & didn't just become dizzy; as I said before, what she decides to do in her free time is her concern.
A light popped on 'head o' her, revealing a smiling face with shades. Autumn sat up & stared @ her with confusion as she rubbed her head.
"¿Why're you rubbing your head? You fell on your ass, not your head", said Dawn.
"O". Autumn dropped her hand & looked down shamefully.
"You're probably wondering why I brought you here", said Dawn.
"I'm wondering why you brought me here in a way that caused the grass bread to be smooshed, the eggs to be shattered, & the onion bagels to develop PTSD".
"Ne'er mind them; I can fix them", said Dawn. She crossed her legs & leaned back. "Autumn, my friend. I was wondering if you could do me a favor".
Autumn nodded.
"I need a few ingredients to continue my flying-turtle experiments", said Dawn.
"¿Did you ask Edgar?" asked Autumn.
"He wants to come with you if you go".
"Then I can do it".
"Great".
But Autumn could see by Dawn's hesitant, guilty smile that this was not great yet, but so far only moderately good.
"There's 1 mo' favor, in connection to this one…" said Dawn.
"¿What?"
"¿How averse are you to being shrunk?"
III
Autumn & Edgar sat on stools in Dawn's teal lab, Edgar gazing in wonder @ all o' the gizmos & doohickeys with his legs lightly kicking, & Autumn with her hands in her crossed lap, her eyes staring curiously @ the beaker Dawn was filling with glowing orange liquid.
Dawn carried 2 o'er to each o' them. Both stared @ theirs, uncertain. Autumn could see bubbles rising & popping in hers.
"Don't worry, I've tested it with a'least 3 anti-virus programs; it's bug-free", Dawn said as she put a hand on Autumn's shoulder. Then she held up a li'l flash stick. "& if it does mess your data up, I backed it up here".
"Yes, but that was a few days ago. I'd like to keep some o' the memories from those days", Autumn said without looking 'way from her vial.
"¿You want me to back up your data right now?" Dawn asked as her eyes vacillated 'tween Autumn & Edgar.
"No, I'm sure it'll be fine", Autumn said as she tilted her beaker.
She held its mouth to her lips & soon felt its sugary, fruity liquid slide down her tongue & throat. As it looked with its bubbles, its taste sparked like soda. She wasn't nearly as fond o' it as Dawn probably was.
"Um, ¿what if I can't drink this?" Edgar said as he lifted his beaker off his lap.
"I already thought o' that", said Dawn. "That's why I made yours work just by touch. Just dump it onto you".
"¿How'd you do that?" asked Edgar, looking up @ Dawn with curiosity.
"I just added added a few neutrons, changing the byte for its use from '6E' to 'CB'".
Edgar nodded, e'en though he had no idea what she said.
Dawn looked back to Autumn, only to see that she was missing. She pulled a magnifying glass out o' her lab jacket & peered closer to Autumn's stool to see a tiny Autumn1 in the middle o' the stool, still looking round herself in mild bewilderment.
Dawn pulled off her gloves, threw them in the trash next to her, & held her hand next to Autumn.
"Get on & I'll carry you to your destination", said Dawn. 'Course, since Autumn's ear drums were now so small, they should now be irreparably damaged due to Dawn's relatively booming voice.
They should be. They're not, 'cause, ah… fuck: let's say Dawn's chemical also beefs up Autumn's ear drum stat. That makes sense.
IV
Autumn & Edgar clutched tightly to Dawn's hand as she carried them. It made them truly appreciate wind resistance: what Dawn must've felt as gentle breezes, Autumn & Edgar felt as pneumatic walls repeatedly smacking them in their faces.
Dawn was certainly perceptive to this, since she babbled throughout the whole trip 'bout what their experience must've been like. Edgar's responses were curt & vague, while Autumn was too preoccupied to answer @ all.
Finally, they felt themselves stop with the propulsion below them. Gazing round, — marveling @ all the huge greenery & urban construction that she had before only glimpsed as tiny details — Autumn thought she recognized the area as the miniature garden some hippies setup on the roof o' their apartment.
Then they felt all o' their blood shoot upward as they were lowered, as if in a speeding elevator. It fell back down when the hand finally stopped, leaving them to stumble a li'l.
"Here we are", said Dawn.
Below Dawn's hand Autumn saw the edge o' a giant gray block. Looking to her sides, she could see that it stretched far off in either direction, dropping off 'hind them. She recognized it as the cement border o' the garden. 'Head she could see dirt, grass, & flowers, as well as the thin slice o' mo' cement, & then the sky far off. She figured this was 1 o' the gardens 'long the edge o' the roof.
She stepped off onto the block, 'gain marveling @ how much bigger & mo' noticeable its divots & bumps were, as if she were walking on Mustard Mountain.
Dawn sat next to them with her legs drawn-up — carefully, so as not to crush them — & pulled out a potion for herself. Autumn, who noticed the quake from her weight hitting her level, looked up curiously as Dawn guzzled the potion. A few minutes later, she shrunk down to their size.
She jumped to her feet & said, "Limpid. Let's start".
"You remembered to bring some potions to revert us to normal size, ¿right?" asked Autumn.
Autumn could tell by the way Dawn froze with wide eyes that this was false.
Dawn grasped her face & cringed. "¡O shit! ¡I knew I'd forgotten something! I was so focused on this silly li'l venture that I didn't e'en think. ¡Augh!"
Autumn looked 'way, now sorry that she'd brought it up — or rather, sorry that she hadn't brought it up 'fore Dawn had already shrunk & 'twas too late.
Well, ¿why's she have to act so quickly? Doesn't she realize you have to think carefully 'bout every step you take, she told herself, though she judged this to be a 'scuse on her part.
"I'm sure it'll be all right…" said Edgar.
"Well, we might be able to sneak back to our floor & possibly squeeze under the front door & make the potions in small form… Or I guess I could call someone & see if they could get us there", Dawn said, the dregs o' hope in her tone.
"We can worry 'bout that later. It's no problem", Autumn said in a low voice, still looking 'way from Dawn. "Let's focus on those ingredients now".
"OK. Yeah. It'll be fine", Dawn said with a light laugh, & then she led them to the edge o' the stone blocks & hopped down into the dirt. Autumn jumped after, followed by Edgar climbing down.
"Sorry 'bout that", Dawn said with a nervous laugh. "As you can see, I'm not as mentally-collected 'bout these sorts o' ventures as you are".
Autumn turned to Edgar. "¿Is that you rubbing off on her?"
Edgar gave her an astonished look & shrugged.
"I can assure you that this 'mentally-collected' version o' me exists purely in your imagination", Autumn said as she turned to Dawn. "Anyway, ¿where d'we start?"
"I'm sorry to say that the info was scant on that", said Dawn.
They all gazed round @ the garden, stretching far in all directions, the distance covered in a complex mess o' grass, flowers, dirt patches, plants, & e'en a bee hive, most o' which were as big as houses compared to them.
"Ah, here we are", Dawn said as her eyes stopped on a dirt pot just before them full o' ripe fruit. Sticking out o' the dirt were 4 tags, the biggest saying, "Jardín de jalapeño". The rest all had arrows pointing in various directions with various labels: "Horrorcore Hare's Hole", "High Hive", & "The Cater-Pillars".
"Well, I guess that answers our question", said Dawn. "So, ¿where should we start?"
Indeed, reader: ¿Where should we start?