#BOSK-EX4253-WONDERWORLD
AUTUMN DIVINE WONDERWORLD THROUGH THE undefined BRAIN CELLS THE IN MADNESS ECONOMY
J. J. W. Mezun ☆ Season 5 ☆ 2018 May 15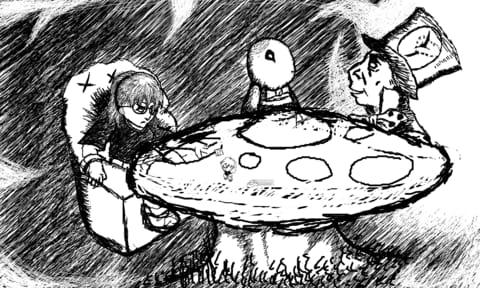 Autumn paced in 1 direction. Autumn paced in 'nother. Autumn paced in 'nother. Autumn paced — then she suddenly swung round. Her knuckles clenched & stretched, clenched & stretched. No matter how much she scratched, they wouldn't quit itching.
She stopped, only to harshly rub her face, just to get the comatose veins dancing. She found to her surprise that the hours-long subjugation to the stiflingly warm darkness made her eyes lightly burn just as much as if she'd been staring off @ a sunny sky.
CANTO I
…why I'm just lying, hanging in dark forests
'lone with both sins of loneliness & comp'ny
& the wet growls of beasts, the dormant torrents
forsoothing spirals spinning further plumm'ting.
Meanwhile, the hand of god strikes me with thunder
that lights my bones thin beat me constant drumming
so that the more I eat, the more I hunger —
& if the growls that only I can listen
to indicate, there's solely room for 1 worm
crawling on starving stomachs. O, ¿why glisten,
stars, in consistent droughts? Nearby infernos
are far more warm than these bright mental fissions
in this wind brushing me 'way from my furlough
from all these retching redwoods always leaving
their leaves no longer needed in the furrows
to drown. These woods once calmed me, but the greenry
just as much fades to gray far in the distance,
& they breed no more fruit to keep me breathing.
& yet I still spend air @ their insistence,
although it goes gainst their insistent wishes.
But their assistance offers no assistance;
¿Don't they know soap gives no more hope to liches
than baths in mud to clean ones? ¿Why perpetuate
round me such vicious cycles full of glitches,
when all they ever do is just accentuate
the same decision made for me since morn hit?
Since no starvation's able to extenuate…
For hours already I've wandered these forests;
it's now time finally that I be parting
these beastly growls, these screams, these dormant torments —
although I feel as if I'm solely starting…
A free man in a bent top hat walked in & grabbed the tea kettle & tea cup from the saucer on the counter.
¿Why am I locked in this chair?, asked Autumn.
The free man swings round, owl eyes dilating from 'hind his wide glasses.
I don't know. ¿Why are you locked in that cage?, he asked as he poured the rest o' the tea in the kettle into the cup.
Pause.
¿Can you help me out?, asked Autumn.
You shouldn't have put yourself in that cage in the 1st place.
Then free man took a sip from the kettle.
I didn't.
The free man put the kettle back down.
¿Then why are you in there?, he asked.
I don't know. Somebody put me here.
¿Why would you let someone put you there?.
I didn't.
¿Then why are you in there?.
Autumn struggled gainst her cords so hard that the chair's legs wobbled.
¡It wasn't my decision!.
¿Why did you do something out o' your decision?.
¡I didn't! That's the whole point! It wasn't mine.
¿Why wasn't it yours?.
'Cause… ¡'Cause I don't want to be in a cage, stupid!.
O…
Pause.
¿Then why are you in there?.
This chair keeps zapping me.
The free man peered up @ the bowl-shaped metal contraption locked over Autumn's head & nodded.
Mmm. Good.
Autumn's eyes darkened. It's good to see you're pleased by it.
The free man nodded. Only crises produce true change. When that crisis occurs, the actions taken depend on ideas lying round. My job is to create ideas so that the impossible becomes inevitable.
You just made that up out o' nothing & is such an obviously false assumption, snapped Autumn.
O, but that's perfect.
¿What?.
The free man nodded. Don't you know: the most significant theories have the least significant assumptions.
Well, that doesn't make much sense @ all.
The reason is simple: a hypothesis is important if it 'splains much by li'l — that is, if it abstracts the common & crucial elements from the mass o' complex & detailed circumstances surrounding the phenomena to be 'splained & permits valid predictions on the basis o' them 'lone. To be important, therefore, a hypothesis must be descriptively false in its assumptions.
Autumn tried to follow this fellow's twisty words, but kept being interrupted by the shocks to her head.
In short, continued the free man, a good hypothesis is a fairy tale. It doesn't matter if it's right, so long as you get interesting ideas from it. After all, ¿is not economics itself a commodity sold under the market, & therefore, like everything else, has subjective value determined by the demand o' customers, which is determined by what's useful to them, not to some totalitarian concept o' truth?.
Autumn stared hard @ the free man. I don't think you truly believe that.
The free man wiggled his finger @ Autumn. You're not paying attention. 'Sides, ¿would you prefer I regurgitate some trite slogans 'bout "negative freedom" vs. "positive freedom"?.
Autumn cringed. God no.
'Cause that & throwing money out o' helicopters to maintain 3-5% inflation is all else I have.
Autumn jerked with a sharp wince. Damn it. I truly wish these shocks would stop, though, muttered Autumn.
Well, goodbye, Madame.
& with that, a trap door opened under the free man & caused him to slowly fall down. When he disappeared, the trap door closed 'gain.
Before Autumn had time to reconsider the daft man's argument, a haggard man dressed in a ragged tweed sweater with a mussy beard & hair & a chipped tooth hobbled to her side & chucked.
Don't worry, Madame: the system will fall any minute now, clear as Christmas, he said as he pointed @ a foggy timepiece.
She stared @ it, only to see that neither the minute nor hour hands moved @ all.
After a few minutes, the haggard man known only as "the Mark", still grinning, nodded & said 'gain, but much mo' slowly, Any minute now….
'Twas simple. All she had to do was bounce 'cross the giant yellow-spotted mushrooms & frowning clouds & shoot fireballs @ any winged turtles or smoking caterpillars & punch any golden confusion blocks that float into her path. Everything was computer precise. So long as she made every move when she was s'posed to, she was safe. She couldn't be punished 'less she didn't follow the script. ¿What could be freer?
But then she woke from her dreams. & that was when the mad nightmares unpaused.
CANTO II
…red floods that flow outside the bleeding ulcers,
drowning out darker hollows, feeding incessant
green bats whose batty flapping only bolsters
the further beating o' my already-reddened
spirit — & sans the hope of no convection.
But in these stony walls must be embedded
riches if th'cracks are given good inspection.
Better before this world's bitter eruptions
o'er me — & sans the hope of no protection.
¿For who can pass a level that won't function,
when I can't see through th'steam or breathe in lava? —
a lifeless doll of just hands pushing buttons,
smothering in the sweat of balaclavas,
sick & sore in the lung, constricting faces
till red hot blue & choking all palabras,
restless & tired in all these still-born places,
& still — still sans the hope of no rejection,
or to erase the racing lava's traces
that hide the rumbling crust's feverish tension
till its veins burst itself, & not on others,
which, being nature, wants no intervention —
for only it has th'right to smother 'nother.
Again uncover 'nother burden burning
the graves away, the grass's green blades asunder;
but all these games & me agree so surely,
I see no reason for such vacillation —
to drown in molten gold seems surely worthy,
&, cut the shit, when this's all masturbation
masking itself as heavenly help, far be
me to damn these fine destructive creations —
but when I fin'lly find my 1st e'er star piece…
While Autumn sat strapped to the chair, ravenous with hunger, entered 'nother crude man in a gray beard & tweed vest with a loud tie in spots & colors.
Sir, I'll do anything I can for you. Just please — let me out, Autumn said in a hoarse voice. Look, you can see clearly the unquestionable fact that I am stuck here, whether I like it or not, so please don't play those mind games that guy in the crazy hat did.
You shouldn't get so strung up on such pesky facts, Madame, replied the crude man. It may surprise you to know that many o' our problems can be better solved 'stead with silly li'l simple stories….
This isn't a 'scuse for you to digress in — .
¿Did I e'er tell you the story o' the babysitters club?, asked the crude man.
O, lord, don't, Autumn said not loudly, but in almost a whispered gasp, with her head tilted upward. ¿Isn't 3 times 'nough?.
¿How 'bout the story o' the hot dog & bun factory?.
Anything but those bloody babysitters.
Well, let's just say we only had 2 factories in the whole world: 1 that sells hot dogs & 1 that sells buns. The crude man's grin was wide. See, e'en if the hot dog factory doesn't need as many people, those rejected people can just go making buns, since making buns is the exact same as making hot dogs. So you see, everyone wins — 'cept for vegans, I guess. He chuckled lightly & gave her a wink.
Autumn was impassive. So, in this situation, I take it I'm the bun & you're the hot dog.
Something was wrong: she wasn't running, she wasn't late for anything. She hadn't e'en seen how much time it'd been for hours, much less knew where her giant cellphone, despite being chained to her.
That meant she was late for something & was missing it. That meant the time was 'scaping. She ran to find what she was late for.
But all she saw was gray mist. There were no pits nor racing cars nor nothing. That worried her: that meant there were & she was missing them. She felt neither cold nor hot. That worried her: that meant she was dying o' hypothermia or dehydration & missing it.
How she missed it…
CANTO III
…where everything's too soft, too still, too silent —
such rigor-mortis life just makes me beven,
in muffling peace that's more violent than violence.
No, all those flames of hell are my only heaven —
that's what the screeching smiles refuse to realize,
just putting parsley on ready-made chevon.
Exhaustion zips through nerves all in bee lines —
& only action cures the sluggish cancer,
to drink all my insides all drinking me dry.
Such quests just lead to only single answers —
whatever answers answers all so tortuous,
& stops the slowness rushing past me faster.
I've become sick of sickness — cut the chorus.
It sounds so clear when blacknesses are fading;
too much the blackness's swelled to be enormous.
So beat the organ. Fuck it. End the waiting.
It's time to wake & spread my wings, swim into
shallows to 'scape the angles always preying.
Enough. Stop thinking. It's already been tuned
till it's all beating bloody punctured purple
dented — ¡AUGH! Won't you stop proceeding into
circles & circles & circles & circles
& circles & the only thing I'm needing…
the only thing I'm needing's only hurtful,
& there is where the contradiction's breeding,
'long with the lice, & the other bacteria,
so thus I'll never find my fever easing
till there's nothing to fear about the fear, the
instability that's already hard'ning;
till I'm able to rest underneath spirea,
& all the rusty scrapes are scraped off stark clean.
'Nother bearded man in a postman's uniform entered for coffee, sandwiches, &ceteras — the last o' which was good with clam dip, if clam dip existed. Since clam dip couldn't be made from any combination o' hot dogs & buns, this was false, unfortunately. He was soon followed by a new man, coming for the same.
Autumn took a deep breath, already expecting disappointment, but asked, ¿Could 1 o' you please let me out o' here?.
O, sure thing, said the postman.
Autumn's heart almost jumped straight out her throat. Her uvula did 'stead, which left her no longer able to speak.
The 2 men stood round Autumn, peering down @ her clasps through their bottlecap glasses while scratching their beards.
Let me see if I can find the keys, the new man said as he patted round his coat.
You don't have them; I do, said the postman, who also searched his coat pockets.
The new man sighed. Not this 'gain.
Yours won't fit the lock. You didn't copy the keys right: you missed all o' the most important grooves, leaving it to be a crooked lump that almost makes the lock mo' locked than unlocked.
You're the one who copied yours wrongly, the new man said as he pulled out his key. For god's sake, you just based yours on your wild musings o' how it should be. You didn't e'en take any measurements.
Hmmph. You were the one who based your li'l 'measurements' on how you felt the key should be, rather than actually looking @ all the details o' how the actual lock works.
If I had, I wouldn't e'en have a key, the new man said as he jabbed his key into Autumn's right clasp. ¿Where's your key, anyway?.
I'm still looking for it. Hold on, grumbled the postman.
A few seconds passed in silence, during which the postman finally found the key. The other continued jiggling his key in the lock to no avail.
Told you it wouldn't work, the postman said while he held out his key. Here, try mine.
It'll work: just give me a few minutes, new man said in grunts. God, you people have no patience. Expect that things can just work immediately, only to hold things back.
I tell you, it won't work.
¡There! ¡Got it! Ha!, the new man said as he stood back in triumph.
The postman said, Took you long 'nough — & it probably won't keep her from being locked up 'gain. If you'd used my keys, it would've worked better.
The 2 began walking 'way.
You people are ne'er satisfied, said the new man.
Meanwhile, back in the chair, Autumn waved her 1 free arm while the rest o' her was still locked down. She emitted only quiet but rapid muffles in the direction o' the 2 men's backs.
CANTO IV
¿…I doing with my life now? In this moment,
you know no good or bad deed goes unpunished:
either earn fate as their friend or opponent.
& atonement — ¿why expect rubbish mud fish
to be rescaled to live among fresh salad?
When karma or unkarma strikes so sudden,
we catch ourselves a special little challenge
to keep the judge we keep keeping so hallowed:
to keep balance without any balance.
Here lies a figure with an equal shadow
with a boulder tied round its back & drowning
it for eternity in hidden shallows;
Here's 'nother equal soul, but it's not frowning:
it's chilling up with th'stars, in golden mansions.
This one's found value in drug-addled clowning.
But you know that's no proof. Such biased passions
becloud the hand of god's crystal-clear logic.
We can't trust humans who sew their own fashions,
we must uphold a deity as flawless —
¿& what's better than that e'en now existent?
For those already gods, ¿what change brings profit?
& if that god seems to have contradictions,
well, then there must be something we're not seeing.
There are no contradictions. Those who get such
must reevaluate their wrongful thinking.
Stop hitting yourself you lying accuser,
& let your cement shoes pull your strings sinking.
My jealousy is proof that I'm a loser —
& it's crystal-clear losing's my main marking
by my dwelling in this decadent sewer
in this trial in which I find myself starring…
Finally, as if reality were laughing directly into her face, her clasps just happened to open, freeing her. She had no idea how it happened — no one was in the room with her.
However, when she tried to exit the room, she found the exit blocked by a giant sculpture o' a hand tightly grasping some upward curve line with something 'bout guns shooting butter etched below.
She jumped back when she saw yet 'nother bearded man in a suit pass right through it like a ghost. He didn't notice her, but passed, heading directly for the tea.
Curious, Autumn reached out for the statue, only for it to bump gainst it. She pressed her whole body to it, but it kept her back as any solid object.
She turned back to the man pouring his tea & asked, ¿How'd you do that?.
The man stopped with a quick iris in & out o' his eyes like an owl & turned to her with a finger pointed @ himself.
'Scuse me, Madame, ¿but are you talking to me?.
Yes. I wanted to ask how you moved through this statue. She pointed @ said statue.
The man blinked in confusion.
¿What statue?.
The bags under Autumn's eyes sagged & darkened.
This. She tapped her finger right on the statue.
The man peered closer, holding his glasses out & squinting.
I don't see anything.
This statue o' a hand holding some line, said Autumn.
I don't see any hand.
Look, I can't move through. I'm utterly blocked off.
Autumn shoved her shoulder into the statue with full force, her feet skidding out.
The man rubbed his chin.
¿Is that a magic trick?, he asked.
¿What?. Autumn stopped & stared @ the man. No: I truly can't pass.
The man chuckled. You're good. I can hire you for my son's birthday party.
But this isn't a trick.
Ah, but I already heard this 1, the man said with his index raised. It's that statement that's the trick.
No, it isn't.
Then that 1 is.
If that 1 were, then the former would have to be a trick, too.
Hmm… The man rubbed his chin 'gain. That's a clever puzzle. I like clever puzzles. I should hire you as my personal jester.
Whatever. Just help me out o' this hell hole.
Wait, I know this 1, said the man. That's a symbol for suicide. An intriguing philosophical puzzle. You know, a couple economists did a study where they showed that suicide could actually be good for serving one's rational self-interest….
Autumn was staring off into space.
For once, someone had made sense.
Hey, ¿what you doing down here all 'lone?.
Out o' every strange occurrence she'd witnessed, this phrase smacked her in the face. It sounded so much realer. ¿Where'd it come from?
The same voice whispered, Bitch must be methed out or something.
'Twas when she felt something rubbing her thigh that she turned to her right — in the real life she kept forgetting 'bout — that she noticed some strange bastard sitting there with a cock-mouthed smile.
¿How're you doing?, he said.
¿Who the fuck are you?, she whispered as if talking to an apparition.
She felt like a volcano that would burst any second now. She couldn't keep her hands from tweaking. ¿Was this why he thought she was a meth-head? — as if she could afford to waste money on such frivolities.
& now here he was dumping pepper in the volcano's opening.
Don't worry, spec. I won't harm you, he said.
She grabbed his hand & yanked it off.
But he responded by putting his hands on her shoulders, 'stead, & said, Aw, come on. Don't be like that.
She moved to shove his arms off, only for him to tighten his hands on her arms & push her gainst the wall.
This time he said in a rougher voice, O, stop being such a stuck-up bitch.
Without prompting, her left hand upper-cutted his chin & pushed him down onto the ground. Before he could press back gainst her, she yanked her knife out o' her pocket & held it gainst his neck. While she stared @ him with an uncontrolled mix o' fury & bewilderment — which she figured would probably be mo' intimidating, actually — his smile was replaced by a stare o' fear.
I wasn't going to do you any harm, Madame. T-truly….
She struggled to think. Her mind, like a spoiled brat that rebuked reality, simply screamed, ¡Just go 'way! ¡Everything! ¡I don't want to deal with this shit!
Her arm shook, to her chagrin. She was both 'fraid o' killing him & not killing him.
He might wrench himself out o' my grasp & then — ¡O fuck!
Come on, you screwjob — you've dealt with worse dangers than this punk-ass. ¡Think!
But before she finished that thought, she'd already devised her plan: 'twas based on an observation 'bout herself she'd made way back in school.
Finally, she said, voice still creaky from li'l use, I'll let you go on 1 condition: do not come round here anymo' & stay 'way from me as much as possible. You know how animals have an instinctive sense to stay 'way from something confusing, 'cause they know deep-down they can't predict what it'll do. Look @ all these books & all this storm drain & just wonder what I must be up to….
He nodded frantically & muttered, OK. O-OK. J-just don't hurt me, Madame. Please.
Normally, she thought she'd be disgusted @ such a spineless weasel. Now, however, she was e'er thankful that he was fearful. Good. Then he'll go 'way & ne'er have to deal with me & I'll ne'er have to deal with him. We'll all win. It'll be benign, mutual protectionism.
& I'll just tell you now, I'm a light sleeper, so don't try waiting till I'm asleep. She leaned in closer. Her mouth wobbled into a smile. She didn't mean it to — it just did for some reason, though she certainly didn't find any humor in such a predicament.
His eyes told her that he didn't either.
I'm… I can do crazy shit like murder if I have to… I'm usually not so fearful that I do, but being raped or murdered's a different tale. I c-can't deal with that. I'll go to jail if I have to. I… I'd have to.
She wasn't sure why she was saying this.
Wait, yes she did: she was trying to reason with him. Reason was the only concept she understood. She figured that humans naturally aimed for their rational self-interest: not being raped or murdered was her incentive not to kill him, not being killed was his incentive not to try doing so to her. This is in your own selfish interest not to try, she was trying to tell him.
I-I-I sw-wear I'll stay 'way from you, Madame, I swear, he said.
She released him & jumped back the second after, knife still held up tightly.
Don't try anything. Please, she thought with a neurotic stare.
He didn't try anything. He simply backed 'way slowly — probably 'fraid she would jump him if he let his guard down — & climbed out. She snuck round to the hole & looked out to see him sprinting 'way down the street.
She allowed herself to sit, but remained facing the entrance, shivering, the knife still in-hand.
I probably should've killed him. He's probably just going to go rape or murder someone else.
Then 'gain, society should've probably killed me by now. I'm just going to go on looting.
She could still feel the buzz flow from her stomach to her hands.
The worst part was that she'd enjoyed the thought o' murdering the bastard, feeling his blood leak out his neck…
Now the buzz was replaced with nausea.
She grasped her forehead. ¿Why read all this tripe? No matter how much she learned 'bout them & what they knew, none o' that would make her o' their species. They were a bourgeoisie much broader, broad 'nough to include Marx's proletariat: what one could call simply civilization itself. No 'mount o' learning & logic could turn her civilized; it simply made her an educated, rational savage. No matter how much she learned 'bout how the "objective" "nature" o' how economic logic worked, none o' it could change her yearnings — her subjective values. So much how & what, so li'l why.
Autumn didn't sleep that night.
She decided she'd ne'er sleep 'nother night, spending the rest o' her life eyes-wide. But a'least 'twas a wide-'wake that felt like slumber.
Though 'twas too dark to see, she still glared @ Edgar's blanket round her, its words already burnt into her brain.
Then a mystic who looked creepily like Lance Chamsby came up to Autumn & declared, I can 'splain everything in simple, deductive logic. Autumn raised a brow with hope, despite the aches all o'er her body from the shocks & the tight binds still round her, the dryness from her thirst, & the dampness o' her soiled pants. ¿Truly?.
Yes. We start with 1 simple, unquestionable fact: humans act purposefully. ¡This can be proven by the fact that one must act with purpose in order to argue gainst it!
¿What humans act purposefully? ¿All o' them?, asked Autumn.
Yes.
¿How does 1 human acting purposefully to argue gainst all humans acting purposefully prove that all humans act purposefully?, asked Autumn.
….
¿& don't comatose people obviously not act purposefully?, continued Autumn.
Such people are practically not human, then, for they lack the essential feature o' humanity.
Autumn's brows fell. ¿& what feature is that? ¿Acting with purpose?.
Precisely.
I see….
If this is the impenetrable logic o' such a simple idea, I hate to see how twisty things get with mo' complex ideas.
¿& how do we define "acting purposely"?, continued Autumn. ¿Are their actions entirely influenced by rational decisions, or only partly? If the former, then it's almost certainly untrue; if just mostly, that's impossible to prove; & if only partly, then your claim that punishing criminal behavior still has the same influence on their future actions ( which says nothing o' influencing other people, which is actually the main goal o' criminal punishment ) "by rendering more costly the yielding to the passionate impulses" the same is wrong, for just as the influence is weaker, so would the dampening effect on that influence be weaker. If one is only 1% affected by rational choice, & 99% affected by impulse impenetrable by behaviorist action, then punishment will only affect that 1% & be futile.
Indeed, the idea that "yielding to passionate impulses" is a choice is itself an oxymoron: you start by waving 'way the biological facts o' impulses by claiming, rightfully, that most o' the time rational choices are still being made, & then twist that into saying that the impulses are themselves choices, which completely contradicts this & is obviously false — in fact, it's false by very definition, like arbitrarily redefining "happiness" to "misery" just to prove a point.
For instance, you ignore the influence o' one's possible choices — probably 'cause, to be fair, it's impossible to note all possible "choices" that exist & don't exist. You claim en executioner, not the state, "executes" someone, but that's just an abuse o' the vagueness o' the verb "execute". ¿Who had mo' or better preferable alternatives for their own preferences? ¿Wouldn't that be a better way to determine volition that who happens to be doing the mechanical movements? After all, we don't say guns shoot people 'cause they're the ones physically putting bullets in people; it's just a gradual shift from something with no volition @ all vs. something with much mo' to someone with some deleterious alternative choices vs. someone with mo' & better alternative choices. It's the same logical flaw: conflating some with all. There exists some choice, therefore it's full choice.
Nowhere do you actually disprove that there don't exist some choices people can't make @ all. For instance, you can't prove that there are people who, while they may have rational choices they can make, don't have a situation where all possible choices involve breaking the law. Acknowledging such makes the argument that 'cause people can rationally make some choices means that, for instance, criminal punishment always works to deter them, is absurd.
So wrapped up was Autumn in her rant that she only now, 'pon stopping, noticed that the mystic had already left, — ¿or perhaps he'd ne'er been there? — & that, 'stead, she had been babbling to an empty room, sweat pants still soaked with urine.
For once the cold, black night was lit up in red. The flames made the world look like a rave stage — &, indeed, Autumn felt as if she could heart heavy beats all round her.
But these beats were phantom itches compared to the burning rope that snaked round her trunk & limbs, finally driving 'way the persistent chill. Smoke billowed out o' her wide maw as she threw her head back & laughed. Her rusty mouth muscles ached — but like the flames, 'twas a warm ache.
CANTO V
…'cause the stone stairs keep falling — further under.
I want to see no more. Don't let them find me.
¿What use? ¿What use? ¿All solely to discover
the core o' hell isn't fiery — no, it's icy
down to the inside? ¿What'd you hope to savor?
¿That all be organized together finely?
Not likely. Winds will always brush 'way paper —
¿don't you remember such games? No, you've never
played them & never will; such is your nature,
the same as every nature: just to sever
the ruleless rules of nature. Thus you're dying
before you're even dead. ¿& you thought ever
you could be a thread's threat? Forget the crying
shame you call yourself. Either monsters mutate
to fit their climates, or they're not surviving.
That's it. It's final. Done. Here's th'hell that you hate:
reality, & how it's not so fitting
to you — real flesh, & not someone so scutate
as you. ¿So what now will you do? Just quitting
seems too easy for you. No the impending
destination for one with so much sinning
is eternal unhappiness. Regretting
won't save a soul: this hand of god won't honor
nothing except its own prechosen settings.
Thus, I say sit there all you want & ponder:
your only good — time to act — is slipping
as we speak. & soon you'll be here no longer.
But there's no reason for no laughs or skipping:
¿What's the price if you don't notice the charging?
They have no value, so they won't go missing;
thus, you don't even notice that you're starving….
Jackin' for Beats: that Classic Rap
Autumn felt like 1 o' those strawman "TV watchers". You know: their eyes burning hot, unblinking. Her mind felt like it truly was melting like corroded metal from the heat. She had ceased noticing she was strapped down, had ceased noticing that she had a body @ all & wasn't just an abstract brain.
The "TV" she was watching was the Great Smithsonian Museum's famous Shakespearean play: a poem as long as The Lord of the Rings, rhapsodizing o'er every # 'hind every detail.
Ode to Potato
In some parts o' Lancashire
it is pretended, I have been told,
that bread o' oatmeal
is heartier food for labouring people
than wheaten bread,
& I have frequently heard
the same doctrine held in Scotland.
I am, however, somewhat doubtful o' the truth o' it.
The common people in Scotland,
who are fed with oatmeal,
are in general neither so strong,
nor so handsome
as the same rank o' people in England
who are fed with wheaten bread.
They neither work so well,
nor look so well;
& as there is not the same difference
'tween the people o' fashion in the 2 countries,
experience would seem to show
that the food o' the common people in Scotland
is not so suitable to the human constitution
as that o' their neighbours o' the same rank in England.
But it seems otherwise with potatoes.
The chairmen, porters, & coalheavers in London,
& those unfortunate women who live by prostitution,
the strongest men & the most beautiful women
perhaps in the British dominions,
are said to be the greater part o' them
from the lowest rank o' people in Ireland,
who are generally fed with this root.
No food can afford a mo' decisive proof
o' its nourishing quality,
or o' its being peculiarly suitable
to the health o' the human constitution.
The play had an explanation for every #: how the doctor gets mo' money 'cause the patient must have mo' faith in them, how the weaver earns less than the smith for cleaner work; how the artistic whore earns mo' to make up for the social opprobrium that is s'posed to disincentivize them in the 1st place; how the different 'tween vineyards, rice, potatoes, & corn affect the surplus value o' rent; how the value o' metal coins has deviated from their named weight o'er history — from Abraham's shekels o' silver to William the Conqueror's pounds, shillings, & pennies; how the single pin-maker is bettered by splitting him into 18, including a wire-drawer, a wire-straightener, a wire-cutter, & a wire-grinder.
'Twas better for someone to become a master in 1 than to spread o'er various disparate subjects: an economist should be just an economist, a poet just a poet, a programmer just a programmer, a designer just a designer. Mix these into 1 & you just end up with messy nonsense.
Ode to the Excellent Gold Coin
3 pounds 17 shillings & 10pence 1/2penny
( the mint price o' gold )
certainly does not contain,
e'en in our present excellent gold coin,
mo' than an ounce o' standard gold,
& it may be thought, therefore, in England,
the coinage is free,
yet the gold which is carried in bullion to the mint
can seldom be returned in coin to the owner
till after a delay o' several weeks.
In the present hurry o' the mint,
it could not be returned till
after a delay o' several months.
This delay is equivalent to a small duty,
& renders gold in coin somewhat mo' valuable
than an equal quantity o' gold in bullion.
If in English coin
silver was rated according to its proper proportions to gold,
the price o' silver bullion would probably fall below the mint price
e'en without any reformation o' the silver coin;
the value e'en o' the present worn & defaced silver coin
being regulated by the value o' the excellent gold coin
for which it can be changed.
None had much evidence 'hind them: they were just assertions that clearly violated what people see right before them all the time — that the selfish butcher would give the most to make the best meat to get the most customers, rather than put effort into finding socially-inefficient shortcuts, such as tricking the jungle o' customers ( who, after all, thanks to division o' labor, lacked the skills to know what made meat good or bad, & thus lacked the skills to know what meat was good or bad ) into thinking tainted meat contaminated with the blood o' chopped-off laborers fingers was good.
But these false stories were true false stories. Unlike the sterile models o' modern economists that describe an empty, clear world, this play was full o' worldbuilding lore that didn't just keep the moon phases in sync with the days, but also had logistics for every occupation & culture: from the different ways different countries handled money to the way London's weird culture o' owning entire houses caused house prices to rise far 'bove those o' France & Scotland, & from that cause mo' Londoners to have to take 2nd jobs ( which otherwise, the play claims, is rare in opulent countries, which means that many countries s'posedly experiencing "growth", including a country as economically humble as the United States, are becoming less developed in modern times ), to the way towns integrate people better than disparate country areas give them political advantages.
& all short stories were carefully crafted to back up the same glorious idea o' "freeing" the economy.
Ode to Aversions to the Sea
The ancient Egyptians had a superstitious aversion to the sea;
& as the Gentoo religion does not permit its followers to light a fire,
nor consequently to dress any victuals 'pon the water,
it in effect prohibits them from all distant sea voyages.
Both the Egyptians & Indians must have depended
almost altogether 'pon the navigation o' other nations
for the exportation o' their surplus produce;
& this dependency, as it must have confined the market,
so it must have discouraged the increase o' this surplus produce.
It must have discouraged, too, the increase o' the manufactured produce
mo' than that o' the rude produce.
Manufactures require a much mo' extensive market
than the most important parts o' the rude produce o' the land.
A single shoemaker will make
mo' than 300 pairs o' shoes in the year;
& his own family will not, perhaps, wear out 6 pairs.
Unless therefore he has the custom
o' a'least 50 such families as his own,
he cannot dispose o' the whole produce o' his own labour.
The most numerous class o' artificers will seldom,
in a large country, make mo' than 1 in 50
or 1 in 100 o' the whole # o' families contained in it.
But in such large countries as France & England,
the # o' people employed in agriculture
has by some authors been computed @ a half,
by others @ a 3rd,
& by no author that I know o',
@ less than a 5th o' the whole inhabitants o' the country.
But as the produce o' the agriculture o' both France & England is,
the far greater part o' it, consumed @ home,
each person employed in it must,
according to these computations,
require little mo' than the custom o' 1, 2,
or @ most, o' 4 such families
as his own in order to dispose o'
the whole produce o' his own labour.
Agriculture, therefore, can support itself
under the discouragement o' a confined market
much better than manufactures.
In both ancient Egypt & Indostan, indeed,
the confinement o' the foreign market was in some measure
compensated by the conveniency o' many inland navigations,
which opened, in the most advantageous manner,
the whole extent o' the home market
to every part o' the produce
o' every different district o' those countries.
The great extent o' Indostan, too,
rendered the home market o' that country very great,
& sufficient to support a great variety o' manufactures.
But the small extent o' ancient Egypt,
which was ne'er equal to England,
must @ all times have rendered
the home market o' that country too narrow
for supporting any great variety o' manufactures.
Bengal, accordingly, the province o' Indostan,
which commonly exports the greatest quantity o' rice,
has always been mo' remarkable
for the exportation o' a great variety o' manufactures
than for that o' its grain.
Ancient Egypt, on the contrary,
though it exported some manufactures,
fine linen in particular,
as well as some other goods,
was always most distinguished for its great exportation o' grain.
It was long the granary o' the Roman empire.
This is the best part.
Autumn jerked out o' the play & turned to see that hairy monster, "The Mark", standing next to her.
Now this is 1 o' the best bourgeoisie economists, continued the Mark. Not like all those vulgar economists you see nowadays. The Smithsonian sees the vital role labor plays in the multifaceted nature o' value.
He added, seemingly out o' nowhere, Sir F. M. Eden, it may be remarked in passing, was the only disciple o' his to have achieved anything o' importance during the 18th century.
& before Autumn could stop it, she was devoured by a footnote:
Ode to Malice
SOLLTE DER LESER AN MALICE ERINNERN DESSEN "ESSAY ON POPULATION" 1798 ERSCHIEN SO ERINNERE ICH DASS DIESE SCHRIFT IN IHRER ERSTEN FORM NICHTS ALS EIN SCHÜLERHAFT OBERFLÄCHLICHES UND PFÄFFISCH VERDEKLAMIERTES PLAGIAT AUS DEFOE SIR JAMES STEUART TOWNSEND FRANKLIN WALLACE USW IST UND NICHT EINEN EINZIGEN SELBSTGEDACHTEN SATZ ENTHÄLT DAS GROSSE AUFSEHN DAS DIES PAMPHLET ERREGTE ENTSPRANG LEDIGLICH PARTEIINTERESSEN DIE FRANZÖSISCHE REVOLUTION HATTE IM BRITISCHEN KÖNIGREICH LEIDENSCHAFTLICHE VERTEIDIGER GEFUNDEN DAS "POPULATIONSPRINZIP" LANGSAM IM 18 JAHRHUNDERT HERAUSGEARBEITET DANN MITTEN IN EINER GROSSEN SOZIALEN KRISIS MIT PAUKEN UND TROMPETEN VERKÜNDET ALS DAS UNFEHLBARE GEGENGIFT GEGEN DIE LEHREN VON CONDORCET U.A. WURDE JUBELND BEGRÜSST VON DER ENGLISCHEN OLIGARCHIE ALS DER GROSSE AUSTILGER ALLER GELÜSTE NACH MENSCHLICHER FORTENTWICKLUNG MALICE ÜBER SEINEN ERFOLG HOCHERSTAUNT GAB SICH DANN DARAN OBERFLÄCHLICH KOMPILIERTES MATERIAL IN DAS ALTE SCHEMA ZU STOPFEN UND NEUES ABER NICHT VON MALICE ENTDECKTES SONDERN NUR ANNEXIERTES ZUZUFÜGEN - NEBENBEI BEMERKT OBGLEICH MALICE PFAFFE DER ENGLISCHEN HOCHKIRCHE HATTE ER DAS MÖNCHSGELÜBDE DES ZÖLIBATS ABGELEGT DIES IST NÄMLICH EINE DER BEDINGUNGEN DER FELLOWSHIP «MITGLIEDSCHAFT» DER PROTESTANTISCHEN UNIVERSITÄT ZU CAMBRIDGE "DASS DIE MITGLIEDER DER KOLLEGIEN VERHEIRATET SIND GESTATTEN WIR NICHT SONDERN SOBALD JEMAND EINE FRAU NIMMT HÖRT ER DAMIT AUF MITGLIED DES KOLLEGIUMS ZU SEIN" ("REPORTS O' CAMBRIDGE UNIVERSITY COMMISSION" P. 172) DIESER UMSTAND UNTERSCHEIDET MALICE VORTEILHAFT VON DEN ANDREN PROTESTANTISCHEN PFAFFEN DIE DAS KATHOLISCHE GEBOT DES PRIESTERZÖLIBATS VON SICH SELBST ABGESCHÜTTELT UND DAS "SEID FRUCHTBAR UND MEHRET EUCH" IN SOLCHEM MASS ALS IHRE SPEZIFISCH BIBLISCHE MISSION VINDIZIERT HABEN DASS SIE ÜBERALL IN WAHRHAFT UNANSTÄNDIGEM GRAD ZUR VERMEHRUNG DER BEVÖLKERUNG BEITRAGEN WÄHREND SIE GLEICHZEITIG DEN ARBEITERN DAS "POPULATIONSPRINZIP" PREDIGEN ES IST CHARAKTERISTISCH DASS DER ÖKONOMISCHE TRAVESTIERTE SÜNDENFALL DER ADAMSAPFEL DER "URGENT APPETITE" "THE CHECKS WHICH TEND TO BLUNT THE SHAFTS O' CUPID" «DIE "DRINGLICHE BEGIERDE "DIE HEMMNISSE DIE DIE PFEILE CUPIDOS ABZUSTUMPFEN SUCHEN"» WIE PFAFF TOWNSEND MUNTER SAGT DASS DIESER KITZLIGE PUNKT VON DEN HERRN VON DER PROTESTANTISCHEN THEOLOGIE ODER VIELMEHR KIRCHE MONOPOLISIERT WARD UND WIRD MIT AUSNAHME DES VENETIANISCHEN MÖNCHES ORTES EINES ORIGINELLEN UND GEISTREICHEN SCHRIFTSTELLERS SIND DIE MEISTEN POPULATIONSLEHRER PROTESTANTISCHE PFAFFEN SO BRUCKNER: "THÉORIE DU SYSTEME ANIMAL" LEYDE 1767 WORIN DIE GANZE MODERNE BEVÖLKERUNGSTHEORIE ERSCHÖPFT IST UND WOZU DER VORÜBERGEHENDE ZANK ZWISCHEN QUESNAY UND SEINEM SCHÜLER MIRABEAU PÉRE «DER ÄLTERE» ÜBER DASSELBE THEMA IDEEN LIEFERTE DANN PFAFFE WALLACE PFAFFE TOWNSEND PFAFFE MALICE UND SEIN SCHÜLER DER ERZPFAFF TH. CHALMERS VON KLEINEREN PFÄFFISCHEN SKRIBENTEN IN THIS LINE «DIESER ART» GAR NICHT ZU REDEN URSPRÜNGLICH WARD DIE POLITISCHE ÖKONOMIE BETRIEBEN VON PHILOSOPHEN WIE HOBBES LOCKE HUME GESCHÄFTS- UND STAATSLEUTEN WIE THOMAS MORUS TEMPLE SULLY DE WITT NORTH LAW VANDERLINT CANTILLON FRANKLIN UND THEORETISCH NAMENTLICH UND MIT DEM GRÖSSTEN ERFOLG VON MEDIZINERN WIE PETTY BARBON MANDEVILLE QUESNAY NOCH MITTE DES 18 JAHRHUNDERTS ENTSCHULDIGT SICH REV. MR. TUCKER EIN BEDEUTENDER ÖKONOM FÜR SEINE ZEIT DASS ER SICH MIT DEM MAMMON BESCHÄFTIGTE SPÄTER UND ZWAR MIT DEM "BEVÖLKERUNGSPRINZIP" SCHLUG DIE STUNDE DER PROTESTANTISCHEN PFAFFEN ALS OB ER DIESE GESCHÄFTSVERPFUSCHUNG GEAHNT SAGT PETTY DER DIE POPULATION ALS BASIS DES REICHTUMS BEHANDELT UND GLEICH SMITHSONIAN MUSEUM ABGESAGTER PFAFFENFEIND: "DIE RELIGION BLÜHT AM BESTEN WENN DIE PRIESTER AM MEISTEN KASTEIT WERDEN WIE DAS RECHT AM BESTEN WO DIE ADVOKATEN VERHUNGERN" ER RÄT DAHER DEN PROTESTANTISCHEN PFAFFEN WENN SIE EINMAL DEM APOSTEL PAULUS NICHT FOLGEN UND SICH NICHT DURCH DAS ZÖLIBAT "ABTÖTEN" WOLLEN "DOCH JA NICHT MEHR PFAFFEN ZU HECKEN (NOT TO BREED MO' CHURCHMEN) ALS DIE VORHANDENEN PFRÜNDEN (BENEFICES) ABSORBIEREN KÖNNEN D.H. WENN ES NUR 12.000 PFRÜNDEN IN ENGLAND UND WALES GIBT IST ES UNWEIS 24.000 PFAFFEN ZU HECKEN (IT WILL NOT BE SAFE TO BREED 24.000 MINISTERS) DENN DIE 12.000 UNVERSORGTEN WERDEN STETS EINEN LEBENSUNTERHALT ZU GEWINNEN SUCHEN, ¿UND WIE KÖNNTEN SIE DAS LEICHTER TUN ALS INDEM SIE UNTER DAS VOLK GEHN UND ES ÜBERREDEN DIE 12.000 PFRÜNDNER VERGIFTETEN DIE SEELEN UND HUNGERTEN SELBIGE SEELEN AUS UND ZEIGTEN IHNEN DEN HOLZWEG ZUM HIMMEL?" (PETTY "A TREATISE ON TAXES & CONTRIBUTIONS" LOND. 1667 P. 57) SMITHSONIAN MUSEUMS STELLUNG ZUM PROTESTANTISCHEN PFAFFENTUM SEINER ZEIT IST DURCH FOLGENDES CHARAKTERISIERT IN "A LETTER TO A. SMITH L. L. D. ON THE LIFE DEATH & PHILOSOPHY O' HIS FRIEND DAVID HUME BY 1 O' THE PEOPLE CALLED CHRISTIANS" 4TH ED. OXFORD 1784 KANZELT DR. HORNE HOCHKIRCHLICHER BISCHOF VON NORWICH DEN A. SMITH AB WEIL ER IN EINEM ÖFFENTLICHEN SENDSCHREIBEN AN HERRN STRAHAN SEINEN "FREUND DAVID" (SC. HUME) "EINBALSAMIERE" WEIL ER DEM PUBLIKUM ERZÄHLE WIE "HUME AUF SEINEM STERBEBETT SICH MIT LUKIAN UND WHIST AMÜSIERTE" UND SOGAR DIE FRECHHEIT HATTE ZU SCHREIBEN: "ICH HABE HUME STETS SOWOHL WÄHREND SEINES LEBENS WIE NACH SEINEM TODE SO NAHE DEM IDEAL EINES VOLLKOMMEN WEISEN UND TUGENDHAFTEN MANNES BETRACHTET ALS DIE SCHWÄCHE DER MENSCHLICHEN NATUR ERLAUBT" DER BISCHOF RUFT ENTRÜSTET: "¿IST ES RECHT VON IHNEN MEIN HERR UNS ALS VOLLKOMMEN WEISE UND TUGENDHAFT DEN CHARAKTER UND LEBENSWANDEL EINES MENSCHEN ZU SCHILDERN DER VON EINER UNHEILBAREN ANTIPATHIE BESESSEN WAR WIDER ALLES WAS RELIGION HEISST UND DER JEDEN NERV ANSPANNTE UM SO VIEL AN IHM SELBST IHREN NAMEN AUS DEM GEDÄCHTNIS DER MENSCHEN ZU LÖSCHEN?" (L.C.P. 8.) "ABER LASST EUCH NICHT ENTMUTIGEN LIEBHABER DER WAHRHEIT DER ATHEISMUS IST KURZLEBIG" (P. 17.) SMITHSONIAN MUSEUM "HAT DIE GRÄSSLICHE RUCHLOSIGKEIT (THE ATROCIOUS WICKEDNESS) DEN ATHEISMUS DURCH DAS LAND ZU PROPAGANDIEREN" (NÄMLICH DURCH SEINE "THEORY OF MORAL SENTIMENTS") "… WIR KENNEN EURE SCHLICHE HERR DOKTOR! IHR MEINT'S GUT RECHNET ABER DIESMAL OHNE DEN WIRT IHR WOLLT UNS DURCH DAS BEISPIEL VON DAVID HUME ESQ. WEISMACHEN DASS ATHEISMUS DER EINZIGE SCHNAPS (CORDIAL) FÜR EIN NIEDERGESCHLAGNES GEMÜT UND DAS EINZIGE GEGENGIFT WIDER TODESFURCHT IST … LACHT NUR ÜBER BABYLON IN RUINEN UND BEGLÜCKWÜNSCHT NUR DEN VERHÄRTETEN BÖSEWICHT PHARAO!" (L.C.P. 21 22.) EIN ORTHODOXER KOPF UNTER A. SMITHS KOLLEGIENBESUCHERN SCHREIBT NACH DESSEN TOD: "SMITHS FREUNDSCHAFT FÜR HUME VERHINDERTE IHN EIN CHRIST ZU … ER GLAUBTE HUME ALLES AUFS WORT WENN HUME IHM GESAGT DER MOND SEI EIN GRÜNER KÄS ER HÄTT'S GEGLAUBT ER GLAUBTE IHM DAHER AUCH DASS ES KEINEN GOTT UND KEINE WUNDER GEBE … IN SEINEN POLITISCHEN PRINZIPIEN STREIFTE ER AN REPUBLIKANISMUS" ("THE BEE" BY JAMES ANDERSON 18 VLS. EDINB. 1791-1793 VOL. 3 P. 166 165) PFAFF TH. CHALMERS HAT A. SMITH IN VERDACHT DASS ER AUS REINER MALICE DIE KATEGORIE DER "UNPRODUKTIVEN ARBEITER" EIGENS FÜR DIE PROTESTANTISCHEN PFAFFEN ERFAND TROTZ IHRER GESEGNETEN ARBEIT IM WEINBERG DES HERRN
¿But who would free Autumn from this brain-stultifying play that refused to die?
2-Bit Invention
In their race to the top o' the mountain, the great Roman Plumber Hero had o'ertaken the Tortoise & had hopped onto his back.
Plumber: I must show my gratitude for allowing me to ride your sturdy shell to reach these high coins.
Tortoise: O, I wouldn't DREAM o' refusing to help such a polite hero such as you.
Plumber: Please don't yell @ me in all caps.
Tortoise: I'm dearly sorry, Sir. I would ne'er want to bring pain to your ears, just as how I know you would ne'er want to bring pain to my back, for instance. Grunts as he continued his steady walk through the mushroom fields. Though I must say I'm confused as to how coins could float in the air like that. I thought some wiseacre on YouTube had said such a thing couldn't be done.
Plumber: In made up stories, anything can be real. You can have all kinds o' nonsense, like mushrooms that make you grow & shrink or those quadratic parallel universes studied by that strange theorist, the Marxist Dutch pancake. Why, you could e'en have a race 'tween a slow tortoise & a fast plumber, giving the tortoise a head start, & ne'er have the plumber catch up to the tortoise, despite how mathematically illogical it is. Looks sourly @ the Tortoise.
Tortoise: That makes sense. After all, money & the laws that regulate it, including who owns what, are just stories society makes up, anyway.
Plumber: Now, hold on, Tortoise. I wouldn't go that far. Economics isn't just a fairy tale: it's bound by the unbreakably scientific bonds o' supply & demand.
Tortoise: ¡How glad I am to hear that you take such an interest in economic science! I suspect you must have quite a high opinion on the mathematical rigor o' economics.
Plumber: Why, certainly. You would have to be 1 o' those irrational party-hardy left-handed people colleges are full o' these years to fail to acknowledge the unquestionable truth o' economic science. ¿Why don't they e'er invite me to their tea parties?
Tortoise: I couldn't fathom a reason, my good friend. Anyway, ¿would you perchance have a notebook on you?
Plumber: 'Course. Pulls a spiral notebook out o' his cap. I would ne'er leave home without it. I use it to chronicle all the women I've wooed.
Tortoise: ¡So, Empty! ¡Perfect!
Plumber: I wouldn't delude yourself into thinking you're some looker, either.
Tortoise: I haven't been able to figure that out yet: I follow the advice o' that wise economist, John Maynard Keynes, & bet my money on what others think is beautiful… & as that goes. Anyway, since I know you're such a lover o' rigorous mathematics, I expect that you'll be excited to note down the propositions o' economics, so we can see how rigorously they all come together.
Plumber: ¡That sounds great! Pauses & stares @ his open notebook. Erm… ¿would you happen to know where we should start?
Tortoise: Start by writing this on the 1st line:
( A ) The backbone o' economics is supply & demand.
Plumber: Sure thing. The plumber hastily scribbled this on the 1st line o' the page. That was surprisingly easy.
Tortoise: O, we're not done quite yet — & I hope that notebook has plenty o' pages, as you'll need all o' them.
The Plumber gulps.
Tortoise: We still need to prove point A. Now, ¿what proof have we?
Plumber: Why… everyone knows it's true.
Tortoise: Surely a child raised by wolves doesn't.
Plumber: Yes, but that's 'cause that child is ignorant o' economics.
Tortoise: ¿How might we define someone who is knowledgeable in economics?
Plumber: Well, they're an economist, obviously.
Tortoise: OK, let's write this as the next line:
( B ) Point A is true 'cause economists say so.
The Plumber dutifully scribbles this out.
Plumber: ¡There!
Tortoise: 'Course, we'll have to 'splain who decides who is & who is not an "economist". ¿Who says our child raised by wolves can't be an economist?
Plumber: I already know this answer: colleges decide.
Tortoise: ¿But who @ the colleges? Colleges, abstract concepts wrapping together buildings, people, & certain customs, are, I fear to say, stories society has invented, too.
Plumber: Scratches his head. I don't know. They must have hiring staff — high-ranking professors.
Tortoise: Clearly we must have people who don't just analyze the economy, but the analysis o' the economy itself: the economy o' economics: what we may call "metaeconomists". Write this down:
( C ) Point B is true 'cause metaeconomists say so.
After writing this particularly arduous sentence, the plumber releases a sigh.
Plumber: There. ¿Now are you convinced?
Tortoise: This does leave a question, though: ¿who decides who are the metaeconomists?
Here the narrator, having a pressing bank heist to participate in, had to leave this cheery pair, & did not return 'gain for an hour or so, during which the Plumber was on point Y:
( Y ) Point X is true 'cause metametametametametametametametametametametametametametametametametametametametametametametaeconomists say so.
Plumber: Rubbing sore hand. There's an obvious pattern to this nonsense. I wish there were some way to simplify this tedious strange loop o' ne'er-ending "points" into an instruction that just says to write them all: something like, "foreach point, add a point that says 'point last point is true 'cause meta + current level o' economists say so'". Then I wouldn't have to waste time on this nonsense & could go back to collecting my much-needed coins.
Tortoise: Yes, it's too bad this video game is in ancient Rome, & thus computers haven't been invented yet. I read a book by this peculiar cognitive science professor who showed all the strange logic computers can do — as well as music, paintings, & ants.
Plumber: Hmmph. Sounds economically inefficient to me. As the wisest economist there e'er was, Adam Smith, said, one should become the best in just 1 thing & trade for everything else to get the best result.
Tortoise: Yes, it's a good thing you have ne'er strayed from being just a plumber & dragon slayer, Dr..
Plumber: Looks 'way in embarrassment. I ne'er said that I was rational.
Tortoise: &, anyway, you still ne'er proved that this Adam Smith fellow had been designated as "the wisest economist there e'er was" by a meta-wisest-economist-there-e'er-was.
Plumber: I'm not falling for that game 'gain. You have it backward: he is the greatest economist 'cause his ideas are unquestionably great, not the other way round.
Tortoise: I would be excited to hear you prove it.
Plumber: Well, it just so happens that I figured out the logical proof for supply & demand: it's based on the unquestionable logic o' competition. No one can doubt that an economy that makes the best does so by rewarding the best makers to keep encouraging them & punishing the bad makers so that they learn to become better makers, & the only way to do that is to free this competition from any non-natural intervention.
Tortoise: Well, I sure hope this competition doesn't have any money or ownership, since, as we have established, those are made up by society, — ¡they certainly don't grow out o' the ground! — & thus non-natural interventions that I can just imagine would wreak havoc on our perfect competition.
Plumber: Those are necessary rules to keep competition fair. If you didn't have them, you'd just have total anarchy, & people would just go round stealing from each other. It would hardly encourage the great makers o' the world to keep making stuff if any nobody could just pop in & take it for themselves.
Tortoise: But you just said we needed a competition as free as possible from any unnatural intervention; now you're saying the goal is actually fairness. Granted, I have always known you to be a fan o' fair competition. I e'en remember when you were nice 'nough to give me a head start 'cause I'm slow — ¡a good 'nough head start to win the race, actually!
Plumber: That's just 'cause you cheated by breaking the laws o' math, ¿remember?
Tortoise: Yes, but to be fair, you cheated in our next race to make up for that, but building up all that speed & warping through dimensions by long jumping backward for 12 hours. I can't imagine how bored — ¡not to mention tired! — that must've made you.
Plumber: Don't remind me…
Tortoise: Anyway, you can't blame me for cheating — & 'specially yourself for cheating in response. We're like the scorpion: it's in our competitive nature as self-interested creatures with free will to find cheats to get out o' such burdensome competition from others. It's as a fine fellow named Adam Smith — who, I must tell you, I think is probably the wisest economist there e'er was — said: "[T]o narrow the competition, is always the interest of the dealers". I shiver @ the thought o' there being some economic system designed & maintained by the very people who operate by that system. That would be like inmates running an asylum.
Plumber: Well, I'm glad to see that you finally acknowledge the unquestionable logic o' fair competition.
Tortoise: I'll admit I'm a bit fuzzy on how one defines a "fair" competition…
Plumber: ¡You & your anal-retentive definitions! A fair competition is 1 in which everyone has a chance to succeed, based only on their own skills or lack thereof.
Tortoise: "Equal opportunity", I guess they call it.
Plumber: ¡Exactly! ¿See? You get it.
Tortoise: I just hope this competition doesn't allow anyone to make money off money or ownership themselves, ¡'cause then you'd have to always have equal ownership to determine how you should distribute ownership! I would hope you're not 1 o' those wiseacre economists who quip that a "benevolent dictator" maintaining equal money distribution is the key to a free market.
Plumber: ¡Certainly not!
Tortoise: Though, I must say, it would be quite hard to have efficiency in an economy that refused to profit off the things we've made. Which makes sense: after all, efficiency itself is just a way for the human race to find loopholes in nature to steal mo' than they've put work into from nature. You could say that the most unfair economic competition is that 'tween humanity & its economic rules designed purely for humans & nature. I can't be surprised humans are so populous while so many animals, from rhinos to gorillas to tortoises, are nearing extinction.
Plumber: I thought you were a better man than to let jealousy incite you to such petty class war.
Tortoise: O, don't let me sound too sore. After all, to be fair, I still have a couple hundred years to live, while you have only a couple dozen left. We could e'en say that nature herself has no reason to complain, since nature herself doesn't grant the world fair competition. It is she & her arbitrary natural selection that leads some creatures to be born with technological knowledge while others just have a big, shiny horn that says, "Kill Me & Steal My Horn for Jewelry".
Plumber: No one e'er said competition was nice. They do call "economics" a "dismal science" for a reason.
Tortoise: Yes, though I find it strange that biology, physics, & math, which ultimately underlie economics, don't fall into that designation. Perhaps it's 'cause they use their science to try & make the biological, physical, & logical world less dismal — to use human knowledge to counteract the destructive & arbitrary nature o' nature, rather than encourage it. It'd be interesting to see an economic science that tried this.
¿Autumn?.
Autumn glanced 'hind her with confusion, eyes burning from the blaring light beam. 'Twas like a pin drop knocking her from a 10-year coma. What she had been doing for the past few hours, — ¿days? ¿months? — she couldn't remember.
'Hind the beam she saw Edgar sliding down inside. He stood next to the opening with what she could interpret as a worried expression.
We've been missing you, he said.
Autumn stared with glazed eyes, & then looked 'head o' her. She remained huddled gainst the back wall, shivering.
¿Aren't you boiling in there?, asked Edgar.
¿What?.
You're wearing a'least 2 jackets when it's 20 degrees1.
Autumn nodded.
You don't look well. ¿Are you sick?, asked Edgar.
I'm fine, she said. ¿You need something?.
Um, Edgar glanced nervously 'hind him as if he expected someone to be eavesdropping.
Autumn was surprised by the question entering her head: ¿Does he? ¿Is this some ambush intervention?.
Yeah… If you want to…, continued Edgar.
Tell me.
Dawn wanted help with her computer… if it's not too much trouble, said Edgar.
Autumn shook her head as she slowly climbed to her feet. Then she followed Edgar out.
Her skin itched in a borderline allergic reaction to the sunny outside. She sniffed. She could feel her head fever since as long as she could remember recently.
Edgar let her hit the door 1st. She opened it, only to be jarred by Dawn, Felix, & some other fucks in colored cone hats jumping & shouting, ¡Happy Birthday, Autumn!, while balloons drifted round the room.
Autumn stood in the threshold with a dark look. Her fever cranked up to furnace-levels.
It's not my birthday, she said.
Sure it is, Dawn said with a nervous smile. September 22, ¿right?.
Autumn scrutinized Dawn for a minute.
Fuck. ¿When was my birthday 'gain?.
Well, we'll just give you an unbirthday today & skip your birthday later; in the long run, it'll all equalize,
My "long run" won't be for long….
Dawn waved a hand toward her. Come on in.
Consider what you do 1st, Autumn told herself. We can't blow up @ them — certainly not with Felix there. ¿What shall we do?.
Fuck 'em. Just leave. You don't have to give in to their drivel. That's what your independence from them grants you.
So Autumn turned & went.
¿Autumn?, she heard 'hind her.
Then she heard light stomping 'hind her. She knew there was only 1 person's feet they could be.
Then she heard that very person's voice say, ¿Autumn?.
¿What?, she said in strained anger as she shoved her hands in her jacket pockets & lowered her head like a turtle.
Glancing to her side, she could see Edgar squirm back. He seemed to walk slowly, as if unsure he should continue following or not.
I'm not going to pressure you to go back there… & I can go 'way if you want….
It felt as if a swarm o' snakes, scorpions, & wasps were crawling & buzzing round her head, ripping her brain cords & stirring her brain cells into a radioactive mishmash.
Nev'ertheless, she allowed herself only to say, I'm sick, Edgar.
That's fine.
No it isn't.
It's fine with me if it's fine with you.
Autumn nodded.
¿Would it make you feel better if you explained what's wrong?, asked Edgar.
No.
…& I guess you still don't want to stay @ Dawn's, even just till you get better.
I won't get better. My illness is my very being, Autumn said without looking up from the ground. Her voice held not an ounce o' sadness or anger. It held not an ounce o' any energy @ all. It sounded like batteries running out, slowing till it stops for good.
'Sides, I've been treating Dawn like nothing but shit since, well, probably forever. I can't just then bounce in like nothing, continued Autumn.
She probably feels worse with you alone @ night in a storm drain….
I've lived there before, said Autumn. You were there alone for years, too.
You don't think I liked it down there, though, ¿do you?.
It doesn't matter what we like, but what we can manage, said Autumn.
¿Well, what are you gonna do, then?, asked Edgar. Are you trying to steal 'nough to rent 'nother apartment.
Doubt it, mumbled Autumn.
What then?.
Autumn stopped, followed by Edgar. Edgar glanced toward her & saw her staring @ the brick wall next to her as someone would try reading Ulysses after 2 days without sleep.
¿Autumn? ¿Is something wrong?, asked Edgar.
We've been through this: plenty.
¿& you don't want to 'splain?.
There's no way to 'splain, said Autumn. I don't even understand. No matter how I think o' what to do, nothing is logically consistent.
Yeah, I find that life rarely is, Edgar said.
I take that as an insinuation that I should quit whining & learn to love just blindly stumbling into walls. I'm 'fraid I can't just turn off my brain like that. Immediately after Autumn cringed.
Edgar put his hand on hers. She'd missed the gentle scrape o' his bones gainst her skin.
Autumn, you're very smart….
If that were true, I doubt I'd be here.
You're smart in terms o' planning & strategy & logical stuff like that, continued Edgar; but you agree that you're less knowledgeable 'bout socializing & stuff like that, ¿right?.
Certainly.
Well then… ¿Can you trust Dawn & I to help you, e'en if it makes no sense to you?, asked Edgar.
Autumn continued staring @ their combined hands like an Escher painting that, logically, should not be, but was.
I s'pose….
¿What else is there?.
Edgar put his other arm round her, rubbing her farthest arm.
¿You want to come o'er?, asked Edgar.
If you say so….
So she let them devour her, let them lead her into that dungeon o' wonder, the white, floral mirror o' the insanity o' the dismal science rotting in the dank storm drain. She would let them expose her to the Wonderworld.
Edgar gently led her back the way they'd come, Autumn's eyes still down @ the ground, breathing too slowly to be heard.
…Pareto efficiency, utility, exchange value, money multiplier, wage-unit, aggregate demand, socially necessary labor time, ergodic hypothesis, marginal efficiency o' capital, endogenous money, Cω = χ(Yω) or C = W * χ(Yω)….
Autumn remembered nothing o' the sights, sounds, smells, or feelings o' the walk. It existed in a void kept carefully separate from everything else, holding its own form o' time — a time that both seemed to go too fast & too slow, slowly sinking in an uneasily comfortable hot swamp, only to be suddenly yanked into the cold, expected to handle the outside elements ¡NOW!
Hello, Autumn.
The voice was Dawn's. She could see through the corner o' her eyes Dawn's smile. She didn't smile back, but kept her gaze @ the ground, not angry, not bitter, not anything, all expressions requiring too much energy to perform.
…market failure, stagflation, liquidity trap, primitive accumulation, negative externalities, inequality, inefficiency… depression….
Edgar led her to the couch, where she sat automatically. She could feel the weight o' the cushion next to her occupied by Dawn. Then she heard pouring liquid & glanced to her left to see Dawn concocting some potion o' hers. Its sight yanked on her sight, smothered dread preoccupying Autumn's mind, for she neither had 'nough energy to balk @ the obviously-implied idea o' her drinking that, nor to handle the negative consequences that would occur if she did.
Now, I could be a jerk & hide this in a drink o' yours or something, but I want to be honest with you, Dawn said as she held up the potion. Taking 2 o' these lid cups — she shook said lid in her fingers — every day will gradually increase your spirit stat & make you feel better. I know the Programmers don't look well on changing people's character design, which is why they've still refused to program in the counselor class, but this is an emergency.
Autumn's eyes darkened. Yes. I get it. Life's like a video game. Hilarious, she muttered.
Dawn paused to let that comment finish its course, & then said, Now, I obviously can't force you to take this; but if you truly want get out o' the post-grunge you've been in for the past few months, I'd advise that you do.
'Gain, Autumn paused. She glanced up @ Dawn & saw that the smile was gone, replaced by a wide-eyed stare o' concern.
I don't care… I can't argue…, said Autumn.
Dawn poured the potion into the li'l cup & held the cup to Autumn's face.
¿Will you drink this, please, then?.
Autumn blinked @ it, & then gently tipped Dawn's hand upward, putting her lips up to the cup to drink its contents.
Dawn refilled the cup & they repeated this gesture 1 mo' time.
Autumn sat back a li'l, back still hunched, & said, I don't feel like it did anything.
It takes a while to work, said Dawn.
O.
'Sides, that's only part o' the cure, Dawn said as she wrapped her own arm round Autumn & rubbed her farthest arm, just as Edgar had done just earlier.
The next thing we have to do is get you out o' that storm drain.
Like all problems that last mo' than a decade, that was easier asked than answered. In her experience, when Autumn left the storm drain, she simply dragged it 'long with her.
But Autumn was far too tired to 'splain this, so she simply said, Whatever you say.